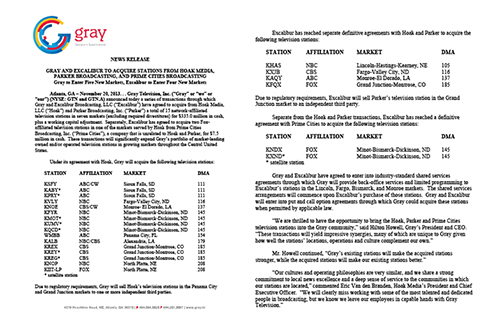 Broadcasting is a strange business these days, and I'm glad I was able to get out of working in it full-time just as it was starting to get spooky.  Consolidation, especially in smaller markets, seems to have been the trend for at least the past ten to fifteen years.  It may be causing another twist here in DMA #145.
Recently the sale of the Hoak Media stations in North Dakota (formerly ND Television, formerly Sunrise, formerly Meyer Broadcasting, and a few in-betweens) to Gray Television Inc. was announced.  This includes not only KFYR (Bismarck), KMOT (Minot), KQCD (Dickinson), and KUMV (Williston), but also KVLY (Fargo) and the KSFY group (Sioux Falls).  That in itself is noteworthy, but there was something further down the press release that was even more interesting:
Separate from the Hoak and Parker transactions, Excalibur has reached a definitive agreement with Prime Cities to acquire the following television stations:
STATION
AFFILIATION
MARKET
DMA
 
 
 
 
KNDX
FOX
Minot-Bismarck-Dickinson, ND
145
KXND*
FOX
Minot-Bismarck-Dickinson, ND
145
* satellite station
 
 
Gray and Excalibur have agreed to enter into industry-standard shared services agreements through which Gray will provide back-office services and limited programming to Excalibur's stations in the Lincoln, Fargo, Bismarck, and Monroe markets.  The shared services arrangements will commence upon Excalibur's purchase of those stations.
The bold emphasis is mine.  This looks to me like KNDX isn't going to have local technical staff for long.  It's called an LMA, or Local Marketing Agreement.  This is not a new phenomenon in North Dakota; KVLY in Fargo operates KXJB in this manner for Parker Broadcasting out of Texas (thus the "Valley News Live" moniker).  This is a different arrangement than the Reitens' KX network has with KBMY (Bismarck) and KMCY (Minot) on behalf of the Forum group; they handle sales locally while master control of the Beemer's programming originates from Fargo.
While FCC rules prohibit one entity from owning multiple stations in the market, it does not prohibit them from operating multiple stations.  It's a convoluted deal that could only be concocted by corporate bean-counters, but one that possibly ends up saving some small market television stations that would otherwise be unviable.  Whether or not it benefits the viewing public is a matter of contention.
Western North Dakota FOX has never been a powerhouse in a market that even the Forum group couldn't crack; Meyer Broadcasting and Reiten Broadcasting established themselves in the 1950s and have never faced serious competition aside from each other.  (As an aside, Forum tried it with KBMY/KMCY.  They folded up their news operations here right before I joined the station's technical staff.)  Now that KNDX/KXND have been sold to a company that's going to try to cut costs and recoup their investment, and are named in a press release from a company who will "provide back office services" to their new owners, the future looks pretty apparent.  Better touch up that resume' just in case.
As a former board op for the ABC and NBC groups, I'm concerned about what happens to the technical staff.  It typically means more jury-rigging in the control room and more demand put on the button pushers.  Hopefully, if my interpretation of this press release is correct and the FOX stations start running out of an NBC control room, it'll be done in a way that causes as few Maalox Moments for the guys in master control.